Real Estate Agent Marketing and way's for an agent to build trust.
For most people, buying a new home is not something to be taken lightly. An RE agent who can show their expertise with valuable content through advertising and marketing shows buyers you are their go-to realtor when they are ready to make a move. Real Estate agent marketing doesn't have to be hard or complicated. In fact, it can be fun and inexpensive to almost free.
This article will discuss various creative real estate marketing methods and one of the number one ways we know will bring you many leads.
There is one method most Realtors are leaving big money on the table. This marketing method is better and much cheaper than any other marketing method. If you take action on this one Marketing method, you will be setting yourself up to be in a million-dollar club year moving forward.
real estate agent advertising – real estate agent marketing
Real Estate Advertising Ideas
Some of these real estate agent marketing ideas are low-cost, and some can cost you thousands of dollars.
Free Real Estate Marketing Ideas:
Facebook Page
Google Plus
Instagram
Pinterest
Youtube
Online Directories
These ideas you can quickly set up for free. You can get your information in online directories if you have your phone number with your address. Most are free and a great way to advertise as people are not always searching on Google.
Real Estate Agent Advertising Ideas With a Bigger Bank Roll:
Postcards and farming to specific zip codes
Paid advertising on Facebook and other social sites
Homes Magazine, if your area still has one
Newspaper
TV
Radio
Co-Op Advertising
Creative Real Estate Marketing:
List of national days – For instance, national ice cream day and having kids stop by with parents for a free coupon
Send a 3D Mailer – Everybody will open an envelope if they think something unique is inside. For instance, you can buy dice and include one in your envelope and say, "Don't Gamble When it Comes To Your Real Estate Needs" – mail these out to homes that were listed and never sold or to FSBOs
#ThrowbackThursday – See if you can find photos of the neighborhood from 10, 20, 30, or more years ago. People will be intrigued to see what the old neighborhood use to look like
Online Real Estate Marketing
One way to advertise online is to look for websites that are open to real estate advertising.  Find a company that you can maybe do some co-op advertising with. Look for home improvement companies or painting companies and see if you can advertise on their websites.
Real estate advertisements get your name out there and recognized. People who keep seeing your name over and over will want to use your services.
Online Marketing For Real Estate Agents
The number one way for real estate agents to get a steady supply of leads is through real estate marketing websites. Now, I want to clarify that this is not from your cookie-cutter real estate sites. These sites are almost worthless as they usually have very little information or articles; on top of that, most of the content is duplicated content.
internet real estate marketing is the way to go, but it's not just about selling houses. It's about getting your name out there.
Did you know local SEO marketing is one of the easiest ways to get new business and significant name recognition?
Local blogs are much easier to rank. Google knows by their IP address when someone is located in the city. Google will try to show sites with relevant information, and if that site is shown to be local by address and other SEO methods, they will show it above national sites.
You can have a section dedicated to local stores and restaurants if you have a local site. Go and do a review and let the owner know you have done a review, and ask that they share it with their social groups.
Is endless the amount of accessible content you can generate quickly while advertising your name on the right sidebar of the website.
We have written another post on real estate agent marketing and the web hosting package they should choose.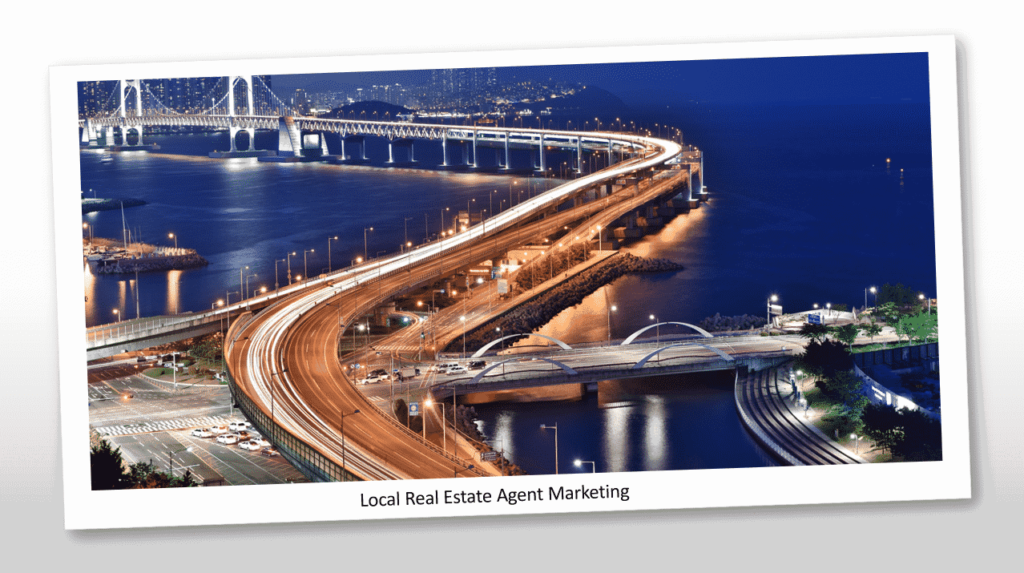 Real Estate Agent Marketing Conclusion
If you are a Real Estate Agent and you asking:
How do I get more leads and sales?
Then you truly need to look into running your website – blog. Creating content for a local site is easy. It will help you get your name out there in more ways than one.
online real estate marketing tools. In the next posting, we will be going over