4 SECRETS TO A EFFECTIVE SMALL BUSINESS WEBSITE!
Website Packages
Website building for small businesses that are customer-friendly and speedy. Did you know Google ranks website's by speed?
DIY Website Builder
Think you can run a local business and market your business online yourself? Here are the steps and products.
Generate Leads
Without leads, a business doesn't exist. We help local small businesses build lead-generating online marketing.
Simple Fast Loading Small Business Websites and Online Digital Marketing. We Make Affordable Sites For Local Businesses.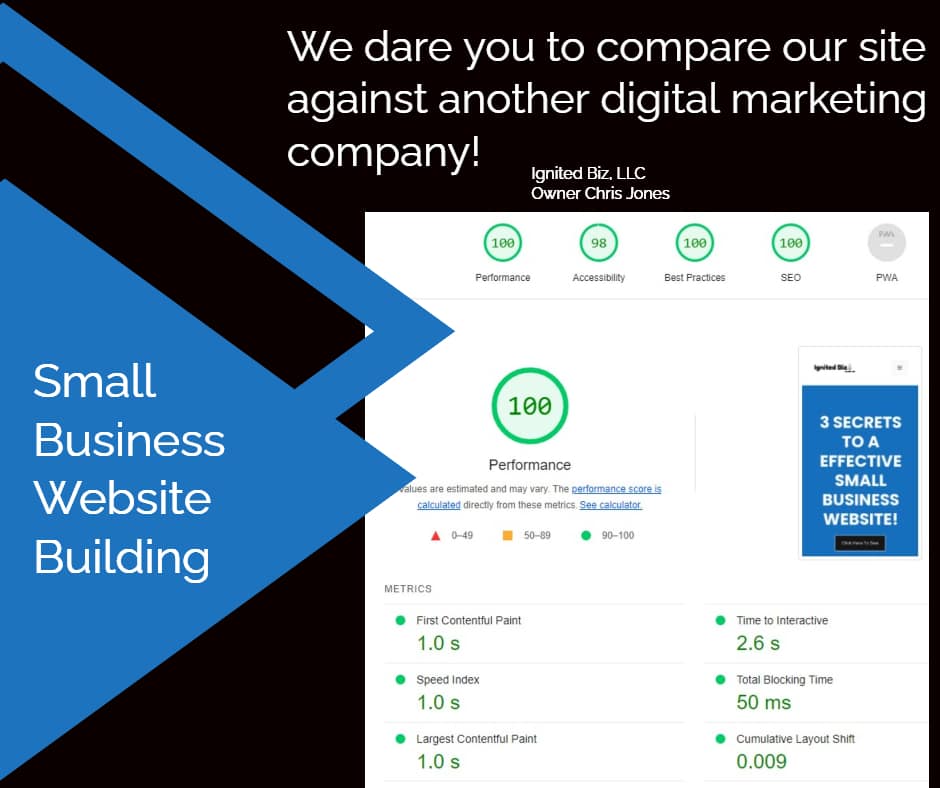 What are SEO Services? What is Search Engine Optimization (SEO)?
Search engine optimization (SEO) raises the visibility and ranking of a website or web content in search engine results pages known as the SERPs. (Search Engine Results Page – For Example, Google and MSN). SEO is used to improve the organic search traffic and revenue of a website. The objective of SEO is to make a site as visible as possible in search results for relevant keywords while also improving its overall performance on the SERP. SEO professionals may employ various techniques to achieve these goals, such as keyword research, on-page optimization, content marketing, link building, internal linking strategy, and social media marketing.
Why is SEO important?
SEO (search engine optimization) is the action of improving the ranking of a website on search engines such as Google. The higher the ranking when a prospective client does a search on the internet, the more likely they are to discover your business site. SEO is important because it can help a business attract more customers and increase sales.
What is the point of having a small business website where no one can find it?
There are several things that can be done to improve a website's ranking, including optimizing the website content, building links to the site, and using keywords in tags and titles.
How much do SEO services cost?
There is no one definitive answer to how much SEO services cost. Prices can vary widely depending on the size and complexity of the project, the experience and qualifications of the SEO consultant or agency, and a variety of other factors. However, some general guidelines can help compare SEO to your overall marketing strategy cost.
First, it's essential to understand that SEO is an ongoing process, not a one-time fix. The most effective approach is integrating SEO into your overall marketing strategy and making it an ongoing part of your business operations. As with any other marketing expense, you should expect to budget for SEO services on an ongoing basis.
SEO Cost VS Other Forms of Advertising
When it comes to marketing a business, there are many different ways to spend your advertising budget. Some methods are more affordable than others, and some are more effective in reaching your target audience.
SEO is often seen as an expensive investment, but it can be one of the most cost-effective ways to reach your target market. Compared to other forms of advertising, such as Postcards and TV or radio commercials, SEO services typically have a lower cost per click and can be less expensive. Additionally, SEO results in long-term traffic that can generate leads and sales for your business long after the initial investment, unlike other advertising forms.
Now at Ignited Biz, LLC, we offer a variety of packages designed to help the local small business owner. We try to keep it as simple as possible as we know how confusing online marketing can become. So check out our packages for the local small business owner page.
Why is website speed important?
Nowadays, people are used to getting what they want fast. Especially true when it comes to internet searches. 
We've all been there – you're in the middle of a work project, and you need to look something up online, but your internet is slow, and the website won't load. Or you're driving down the road, and the cell signal is not the strongest. You search for a local service like a restaurant or automotive shop, and it does not load. Frustration ensues. You're not alone. 
According to Google, 47% of people expect a website to load in 2 seconds or less, and 40% will abandon a website that takes more than 3 seconds to load. That's why website speed is so important – if your website isn't loading quickly enough, you're losing potential customers.
There are several reasons why a page loading speed is essential. 
First, Google uses website speed to rank its search engine results pages (SERPs). There is nothing like paying a company to do online marketing for you, but they don't produce a quality streamlined site to put you at the top of the ranks.
At Ignited Biz, LLC, we don't leave this stone unturned. But unfortunately, a HUGE majority of SEO agencies and website designers do. That is because they don't have the know-how. If they can't accomplish this simple task, think about the quality of the other services they provide your business. We have seen so many companies running ad campaigns and spending massive amounts of money on web design services and SEO optimization only to ignore the speed and accuracy of their site.
Why does website speed matter?
Why does website speed matter? It's simple – because a fast website means a better user experience. When your website loads quickly, visitors are more likely to stay and spend more time on your site.
What does a fast website mean? A fast website means that it loads quickly, your pages load quickly, and the overall experience is good.
Not only does Google use website speed in their ranking factor but even more important, it will affect what is called your bounce rate and the amount of time a customer spends on your site, which can GREATLY affect your website ranking.
Speedy sites mean more money in your pocket. It's that simple.