4 growth strategies to ignite your small business.
What is a Business Growth Strategy?
A business growth strategy focuses on increasing revenue and profits. Companies that use growth strategies can benefit from several factors, including customer acquisition, innovation, and geographic expansion. One common strategy is product development, which involves creating new products or adding new features to an existing product. This opens a company's brand to a whole new audience.
The best growth strategy is customized to the company's needs and strengths. It should also consider its competitive landscape and its customers' behavior. This strategy should start with a high-level goal and work backward to determine how to get there. For example, if a company aims to reach $1 billion in revenue within five years, it may need to develop a growth strategy to increase revenue over the next four years.
While sales growth is a primary motivation for many people, not every business is all about the bottom line. Some companies place more emphasis on employees, customers, and the overall experience. It's essential to remember that these different goals should complement each other and be analyzed throughout the business's lifecycle.
Another strategy is market development, in which a company expands its customer base by offering its existing products or services to a new market. This method is especially useful for struggling companies because it can help them increase their market share.
Marketing a Small Business – The First Steps
The first step in marketing a small business is developing a strategy. This strategy should outline a plan of action that includes the target audience, messaging, and methods for increasing profits. The program should also include strategies for generating brand awareness and promoting your business on social media. Once you've developed your strategy, monitor your progress and set KPIs to measure your success.
4 Growth Strategies For Marketing
1. Measure Market Penetration
Market penetration is a calculation of the percentage of products sold in a market compared to the total market size. It helps measure a marketing campaign's success and can provide insight into the overall market. It also allows you to compare your products and sales effort with your competitors. There are several ways to measure market penetration.
Using customer feedback forms and surveys is an effective way to gauge the market's response to your products. The results of these surveys can help you refine your products and offer new ones to customers. Many large companies use market penetration strategies to increase their sales by creating new products or increasing their production. Typically, this results in a lower price for a product, but it is essential to ensure that you're not sacrificing quality. Market penetration will help your brand get recognized for its affordable offerings if done correctly.
To determine market penetration, marketers must evaluate the current market size and demographics. This will give them an idea of how much room they have to expand and how they can capture market share. They must also consider any barriers to market entry. If the barrier to entry is high, for example, marketers may want to target new customers rather than trying to increase their market share in the short term. By educating customers, they increase their chances of success.
Market penetration also requires combating rivals. Many competitors will steal your customers, which will lower your profits. You will force competitors to change their tactics by offering special services no other company offers. Your special techniques will appeal to consumers who are willing to pay higher prices for better quality. This will force your competitors to change their pricing strategies, thus putting them on the defensive.
For example, a roofer could provide checkups on a five-year period to ensure all seals are still holding. The customer knows your company – this proves your company is around for the long haul and you care about your work. It is a extra step but think about who they will call if they need another new roof plus think about how customers spread good service. If someone mentions they need a new roof I bet your customer would recommend your roofing company. Word-of-mouth roofer marketing is the best.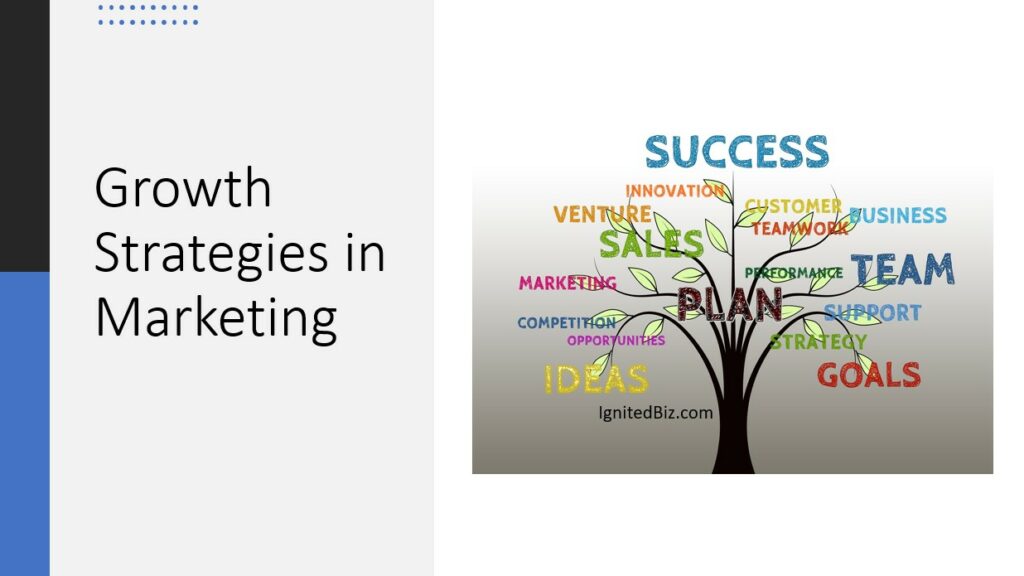 2. Partnership Growth Strategies Marketing
What Is Partnership Marketing?
Partnership Marketing involves creating a mutually beneficial relationship between two companies that share similar goals and values. When creating a partnership, it's important to set objectives and communicate those goals clearly to both parties. The partnership should have specific revenue goals and be measurable to ensure success. The company's internal stakeholders should also be informed of any data or metrics that indicate success.
Partnership marketing is a great way to attract customers and build relationships with existing customers. It can be used in conjunction with other methods, including affiliate marketing programs. You could even offer free gifts and freebies to loyal customers when they buy a product or service from your partner. Other ways to utilize partnerships include opening a location inside another company or offering goods and services for sale.
The benefits of partnership marketing can be considerable. For example, collaborating with a large company can enable a company to tap into a larger marketing budget. For example, Brewdog, a Scottish brewer, has partnered with several small breweries to introduce customers to new beers. These partnerships help the companies increase brand awareness, drive conversions, and leverage brand equity.
Partnership marketing has many benefits for businesses and can help businesses grow more rapidly. It can also help companies establish long-term success. Typically, the best partnerships are between brands with similar target markets. BMW and Louis Vuitton, for example, have shared audience demographics. Both brands strive to create luxury and exclusivity for their customers.
3. Product expansion – Diversification Growth Hack
Product expansion and diversification are two important aspects of a company's growth strategy. Product expansion involves introducing new products and extending the existing product line. Diversification is a strategic way to create a competitive advantage and keep a company vibrant. For example, a popular chocolate brand may diversify from making candy to developing a new line of European-style spreads.
Diversification consists of two main strategies: external and internal. In external diversification, a firm looks outside its existing operations and purchases access to new markets or products. One common form of external diversification is mergers. Mergers are transactions that combine two or more companies with complementary products. These mergers aim to achieve management synergy and create a stronger management team.
Product expansion and diversification have their pros and cons. Product expansion is the easier of the two methods but requires more effort. New markets and products bring their own challenges. Product development is a process that takes time and requires a high level of expertise and knowledge. Product development involves identifying market opportunities and launching new products.
Diversification can increase a company's profits. Some types of diversification can boost a company's know-how and increase the efficiency of its resources and capacities. Diversification can also create a competitive advantage by reducing the risks of a business decline.
4. Customer Retention
Customer retention is the last of the 4 Growth Strategies for small businesses.
The goal of customer retention is to convert one-time customers into repeat buyers. Customer retention begins with knowing your customers and understanding their pain points. Then, surprise them with experiences that delight them and make them want to come back for more. Ask for testimonials and show appreciation for their business. Then, continuously improve your customer retention programs by conducting tests.
Customer retention can be measured by calculating the percentage of customers who make a repeat purchase. This number is different from the number of orders placed by each customer. For example, if a company has 50,000 customers, it will need to retain a percent of them. This rate should range between 20 and 40 percent.
Customer service is an essential component of customer retention. The most successful customer service programs will ensure that customers are happy with their experience. Employee advocacy is one of the best marketing tools for a company. Research by Gallup shows that companies lose $450 to $550 billion a year because they fail to build employee loyalty.
Another way to increase customer retention is by personalizing the shopping experience. This can be done by using data and insight gathered through surveys, customer reviews, and purchase behavior. These data can be used to create customer profiles. This data can then be analyzed to develop personalized offerings. Customer intelligence platforms can also help collect customer data and generate customized offerings.
One Bonus 4 Growth Strategies Hack
Online Marketing
Why consistent online marketing is so important to build loyalty and authority?
Why Consistent Online Marketing Is Important
One of the most important aspects of successful digital marketing is consistency. Consistent content helps customers recognize and trust your brand. It also saves time and reduces stress. Whether you are using social media, writing blog posts, or sending emails, it is important to remain consistent. Here are some ways to keep your content fresh and updated:
One way to stay consistent is to create a routine that you can stick to. This way, you can build a rapport with your audience. It also helps you establish brand authority. It gives your customers a reason to trust your brand and will increase your profits. If you do not do this, your audience will simply forget about you and go elsewhere.
Consistency also helps establish customer relationships. Whether it is through a blog or a website, consistency helps establish trust and credibility. In addition, a consistent brand has better visibility and reputation. A Techipedia report noted that consistent brands are valued 20% higher than inconsistent brands. It helps to create a memorable brand by consistently posting about the same topics, or adapting your content to address current issues or natural disasters.
Consistent content is vital for digital marketing success. It is important to stay consistent in two ways: the quality and frequency of the content. Consistent content generates more traffic and leads. Consistent content also improves SEO.
In conclusion, these four growth strategies will help your business expand and prosper. You can achieve great things with a solid plan, the right team in place, and a willingness to take risks. So what are you waiting for? Get out there and start growing your business!